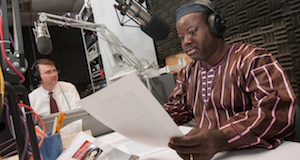 The African focused show, African Perspectives is currently one of the longest running locally produced shows on Athens Classic Radio Station, WUGA. The show dedicated to the music of and issues about the African continent and Africans in Georgia and the entire Southeast began with monthly installments in November 1997. Within a few months and in response to listeners' appreciation of the show, it became a weekly program in 1998.  It was first scheduled for Thursday afternoons and then in 2004, it was moved to 4:30 pm on Mondays. The show moved to its present slot of 3:30pm on Monday afternoons in 2011, it is now airing at 4:00pm on Sunday afternoons. African perspectives is written, produced and hosted by Akinloye Ojo, an associate professor in the department of Comparative Literature and the African Studies Institute. Ojo began the show in 1997 as a graduate student in Linguistics and an officer of the University's African Students Union (ASU). The ever popular show features selected African music, commentaries on African related issues, performances and invited guests. Guests on the show have been predominately affiliated with the University of Georgia, but the show in its nearly two decades of existence, has also featured African ambassadors, politicians, musicians, scholars, administrators and dignitaries from all walks of life. The program has continually received the support of the African Studies Institute and it has become a great outreach tool for the institute.
African Perspectives Timeline
August 1997:  Proposal submitted by Akinloye Ojo for an African focused show.
September 1997: Sample "African Perspectives" show recorded at WUGA studios.
November 1997: First ever "African Perspectives" show is aired (the show is scheduled as a monthly special)
Summer 1998: "African Perspectives" becomes a biweekly show on WUGA-airing the 1st and 3rd Thursdays of the month at 4:30 p.m.
February 1999: African Perspectives becomes a weekly show on WUGA at 4:30 p.m. on Thursday afternoon.
Spring 2004: African Perspectives moves to Monday afternoon at 4:30 p.m.
April 2011 African Perspectives moves to its current slot: Monday afternoon at 3:30p.m.